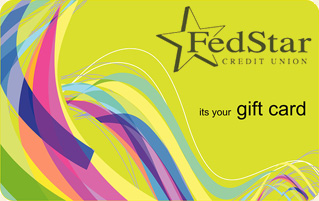 Safer than carrying cash, easy to purchase, and fun to receive, our VISA Gift Cards are the perfect gift for everyone!
---
How do they work? You simply choose a design option, pre-load the VISA Gift Card with any amount between $10 and $1000, and give it away! The gift card is available for immediate use, and is non-reloadable.
Gift Card Tips & Tricks
---
Thank you for purchasing a Gift Card from Brazos Star Credit Union! These tips will help you or your recipient enjoy the benefits of a VISA® branded card with confidence and security. This card can be used everywhere VISA® is accepted.
Point of Sale (POS) Purchases:
When making a purchase always select CREDIT or you may give your card to the cashier and sign the receipt.
Purchase Greater than Card Value:
You must advise the merchant how much is available on your card. If the purchase you are making is greater than the balance remaining on your card, it may be declines unless you process it as a split tender. The merchant will complete a split tender transaction and charge the card for the available balance. However, some stores may not be able to handle this function. The remaining amount of your purchase will require another form of payment.
At the Gas Pump:
We recommend using your card inside at the register and not at the pump.
Hotel and Restaurant Purchases:
Most hotels and restaurants will automatically factor up to an additional 25% to cover any tip that you may leave on the card. You should ensure that your card has an available balance that is 25% greater than your total bill when requesting authorization.
Easy Reminders:
Don't forget to sign the back of your card before use.
Never give your card to others
Log on to www.myprepaidbalance.com to check your balance and transaction review.
For customer assistance, call toll-free: 1-877-283-1860
VISA gift cards are limited for use only in the United States, including US Military bases and territories including Puerto Rico, Northern Mariana Islands, US Virgin Islands, American Samoa, and Guam. Accepted almost everywhere domestically VISA is, the recipient is able to use the gift card wherever they choose, and you'll enjoy the convenience of one-stop shopping. No more fighting crowds, traffic or choosing the right size, all for a low processing fee of $3 per card. Should you desire to purchase a card for an international trip, the VISA Travel Card allows for a strong combination of security and flexibility and is accepted by merchants and at ATMs worldwide.
To purchase a VISA Gift Card, please stop by our branch today.
Note: When using a VISA Gift Card, be sure to select 'credit' and sign for the transaction.
VISA Travel Cards – Travel Easy
---
If you're traveling soon, don't hassle with cash or worry with changing currencies. Use a VISA® Travel Card instead. Accepted world-wide (wherever you see the VISA branded logo), these cards carry all the safety and security you've come to expect with VISA® and can be registered in your name.
How do they work? You pre-load the card with any amount between $20 and $3,000, we register the card in your name, and it's ready to go! It is safe, easy to use and so convenient!
Traveling with a companion? Not a problem – you're able to purchase a companion card for a nominal fee. Both cards have access to the same balance, and if one gets lost, you can cancel it while still using the other card.
Additional card features:
Is accessible at ATMs worldwide
Can be used as a debit or ATM card
Can purchase a companion card to share the wealth
Low cost of $8.95 per card/$5.95 for each companion card
Reloadable in any amount for just $3.95 per card
Easier than cash
Does not affect your share or share draft account
A great way to travel!!
To purchase a VISA Travel Card, simply visit our branch and speak with a Member Service Representative.